Featured In Print
Featured Online
Awards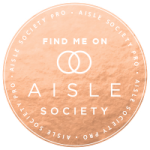 Testimonials
It's hard for me to put into words about Amanda, but  "Amazing Amanda" about covers it! As I began the wedding planning process for our daughter I knew I would need someone to help. After an initial coffee meeting with Amanda I booked her services. Amanda provided us all with many fabulous vendor resources to select from. She kept us in touch constantly during our daughter's 6 month engagement…responding to my emails, texts, phone calls, vendor questions, & reaching out with monthly checklists to make sure we were on track. Leigh chose a unique reception space that needed a lot of detail to turn it into an elegant event space. Amanda helped us select everything down to the last plate and fork, and spotlight on the cake. The space was magical, it far exceeded anything I had imagined! I could not have been more pleased with how amazing the venue looked…all thanks to Amanda's design & coordination of other vendors. We will forever be grateful to Amanda for her support on the best day of Leigh & Brian's lives. If you think you don't need a coordinator…you do! I'm an organized individual with a CPA background, and the best business decision I have ever made was to hire Amanda of A Swanky Affair! Amanda thank you for making Leigh & Brian's wedding truly amazing. You took all of what Leigh and Brian wanted into account on their big day and helped us make it happen! It was tough getting their decisions on timely things when they were both working 50 hour weeks. Your grace, patience and attention to detail and organization are phenomenal. Yes, "Amazing Amanda" ! That fits the bill!
Melissa Morauer
Amanda deals directly with vendors if and when you want her to and completely takes the stress out of wedding planning. She provided us with  full service planning (which I would highly recommend) and saved us a ton of money and most valuable of all, saved us time. My wedding weekend ran smoothly and seemingly effortlessly due to her high attention to detail, creation of a very thorough budget and timeline, and working and communicating directly with all the vendors. I am forever grateful that she made such a special day so easy for everyone involved. She went above and beyond the call of duty. I highly recommend her to anyone getting married with any type of budget.
Stephanie Dedrick
Amanda, I am not sure where to begin thanking you for our wedding. The entire weekend so far surpassed anything for which we could have ever hoped. I have never experienced so much tremendous joy. When I looked into Bay 7 for the first time it took my breath away. Not only was the weekend absolutely perfect, but you made the entire planning process so fun and easy. You were unfailingly responsive, professional, helpful, and creative. Looking back I realize I never felt stressed or anxious because I was always so confident that you had everything under control. I feel so fortunate to have been able to work with you not only because I enjoyed you so much, but also because you were so well respected and liked by all of the vendors in Durham. You gave us our perfect wedding and we will be forever grateful.
Dorie Aker
Amanda, I can't thank you enough for helping me make my dream wedding come true. I told Jerel I am going to miss speaking to you every week. I honestly feel like I have gained a great friend out of our working together with planning my wedding. I appreciate all your hard work, including the behind the scenes work, and wish you continued success with your business.
Tonya Day
If we had a dime for every compliment we've received on the wedding, we'd surely be millionaires. All the fun, joy, and spectacular beauty of the event are a tribute to your gift of wedding planning.Thanks to your help we were able to celebrate the best day of our lives, and the days leading up to it, completely worry free. We are incredibly happy that so many of our 200 guests claimed the wedding was "the best ever." Truly a tribute to you.
Tica Lima Coan
I have been fortunate to work with Amanda on events of all types, from board dinners and exhibition openings, to benefit galas and weddings. I always look forward to working with Amanda on my own museum events, and I never hesitate to recommend her to our clients. She is efficient and attentive to detail, and accommodates change and special requests with ease. Her positive attitude is such a calming influence, she makes the execution of successful events seem effortless.
Kathy Wright